by Pattie Knox
Christmas gift tags in the folk-art style for printing
Happy Holidays to all of my friends at Get It Scrapped! You've blessed me with the gift of your friendship all through the year and I'd like to return the favor with a small token of my appreciation.
Click here to download a zipped file with Christmas Gift Tags and Printing Guide.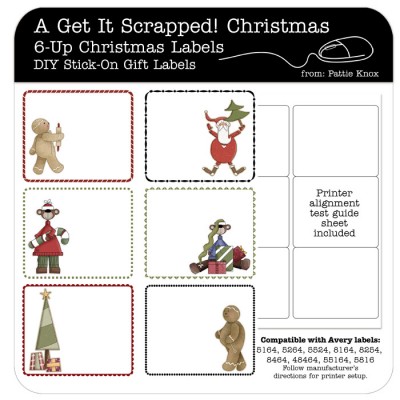 If your household is anything like mine your tape and gift labels seem to be spirited away at night by gremlins! My gift to you is a set of gift labels designed to be printed out at home using Avery label stock. Compatible with Avery labels: 5164, 5264, 5524, 8164, 8254, 8464, 48464, 55164, 5816. I've also included a Print Guide which you can use to make sure your printer output is setup correctly without wasting ink or label stock. Follow manufacturer's directions for printer setup.
If you prefer, you could also print the file out on plain cardstock and cut around the designs with decorative scissors. (If you can find those scissors!) LOL!
May God bless each and every one of you in 2010.
[pknox]