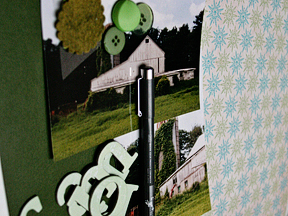 If you have a couple of photos, some paper, a trimmer, pen, and alphabet stickers, you can make this page in 10 minutes. Just do it! Don't over think things. Don't go shopping for anything besides these basics.
Gather:
2 4″x6″ photos you'd like to scrapbook on a page together. One should be 6″ wide by 4″ high and the other should be 6″ high by 4″ wide.
1 piece of 12″ x 12″ cardstock in a color that will show off your photos well. (If you're unsure, go with a neutral.)
1 smaller piece of cardstock or patterned paper that will look good with your photos.
alphabet stickers.
pen.
paper trimmer.
adhesive.
How to:
1. Click to open the pdf for Paula Gilarde's page sketch shown here.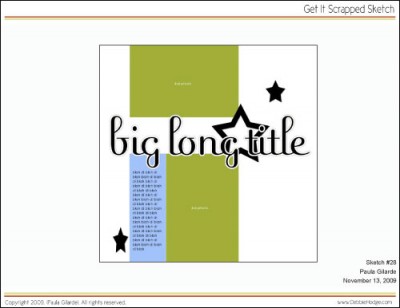 2. Lay your background cardstock on your work table.
3. Trim a patterned paper or cardstock piece to 2″ x 6″.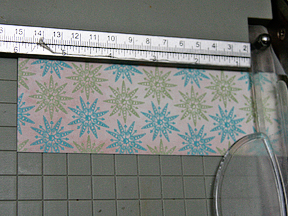 4. Adhere photos and cardstock as shown in sketch with edges bleeding off page top and page bottom.
5. Handwrite your journaling on the accent strip.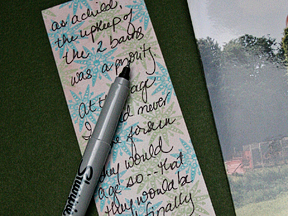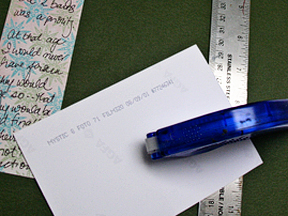 6. Adhere alpha stickers for title.
7. If you'd like, add a few embellishments.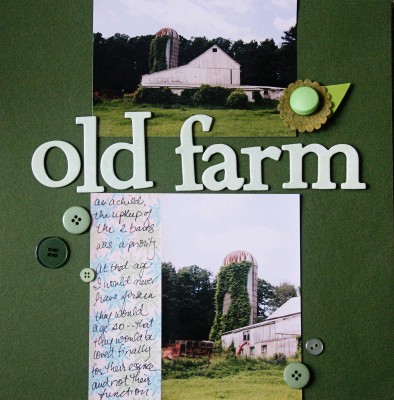 You're done!
How'd it go? Will you take a photo of this first page and share it in our gallery? Are you ready to make another page? We've got lots of sketches in our Get Sketches gallery.